Groom your pet at home with exactly the right clipper
Research has shown that pet "parents" would prefer grooming their pet at home.  But picking out the right clipper can be a challenge.  Consumers need better education on tool differences, they need to touch the product, and they need an easy selection of blades.
Pet stores are loaded with dramatic, bright, primary colors.  This can be sensory overload.  Our PetSmart clipper display has a unique toned-down color palate of black and a striking spring green.  Consumers come into the store after doing some Internet research and pre-shopping.  They know what they're looking for.  Once in the store their memories are triggered by the familiar color and language.  Our PetSmart clipper display encourages the shopper to pick up and interact with the product.  Andis has seen 40% increase and above in sales lift!
Pet parents are now pet groomers!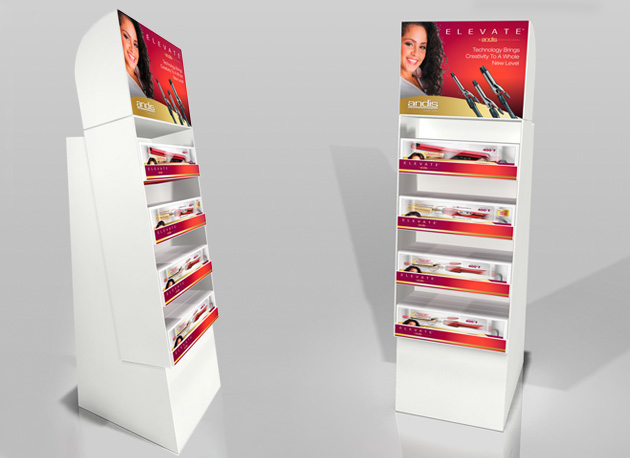 Elevate your look to new heights.
Andis is a historic company that prides itself on well-designed and technologically advanced beauty products. We wanted to design a semi-permanent end cap display intended to distinguish Andis irons from the competition while maintaining focus on design and technology. This display is made of sturdy corrugated material and can be broken down and rebuilt with ease.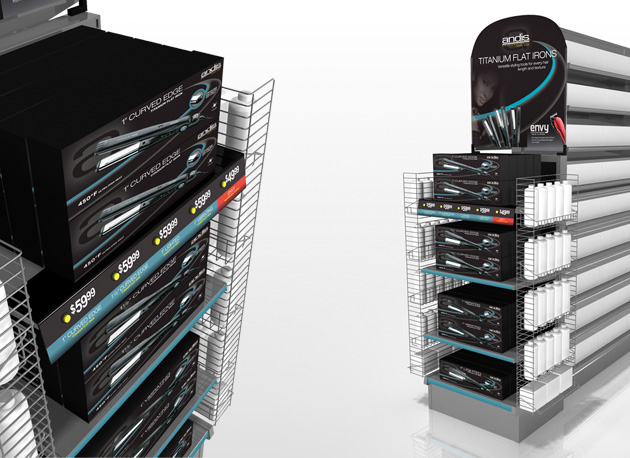 The strongest name in flat irons.
In a store like Sally Beauty Supply shelf space is always a hot commodity. That's why end cap displays can be so important to sales. They're often the first and last displays a customer sees. This simple end cap display features an interactive audio box with five push buttons calling attention to Andis' featured flat irons below and their corresponding price points. A large header graphic above helps to draw in attention from anywhere in the store.